Gerrit Oosterhuis (system architect)
25 October 2017
I have a lot of contact with our customers, to gain a thorough understand of what their needs are.
Internationalisation is one of the major developments VDL is currently undergoing. While customer contact used to be mainly at the local, regional and national levels, a lot of business is now also being conducted internationally. VDL Groep delivers products to a large number of customers outside the Netherlands and Europe. In combination with the changing role of suppliers, such as VDL, in relation to customers, having an office abroad has become increasingly important. Gerrit Oosterhuis has seen this first hand. He works for VDL in the United States.
What is your role for VDL in the US?
"I moved there last summer, to Milpitas, California. For the coming three years I will be working in the heart of Silicon Valley, the centre of the high-tech world, where I am part of a small team of around seven colleagues who work for VDL ETG T&D in America. Many of our customers are located here and have a development department in the US. Customers are increasingly asking us not just to deliver the product according to their specifications (build to print) but also to be involved in the development of the product (build to specification). To serve them as well as possible, especially with new projects and products, face-to-face contact is very important. That is why we now have an office in the US too, to be as close as possible to our customers."
What does your job as system architect involve?
"Via my undergraduate and graduate work at Wageningen University and my PhD in applied physics at Eindhoven University of Technology, I eventually ended up with VDL ETG. As a system architect, I am responsible for the project from a broad technical point of view. My work mainly involves the development of new products or modifications to existing products for the semiconductor industry. This may involve complex mechatronic systems, for example, and there are also many vacuum-related applications. These products are extremely precise and super clean. We are also involved in frame development and machine parts for the positioning of lasers and electron microscopes."
Is working for VDL in America different than in the Netherlands?
"It suits me well, but it takes some getting used to the cultural differences. The fact that you speak the language makes it easier. The time difference is sometimes problematic, so we occasionally have to be creative with our working hours. The approach to working is also somewhat different. Unlike in the Netherlands, where I was regularly involved in the production and provided support during analyses or problems, I now have more of a role in sales. So I'm more involved in working with the customer to define the project. I also spend more time networking, out in the field. I have a lot of contact with our customers, to gain a thorough understand of what their needs are."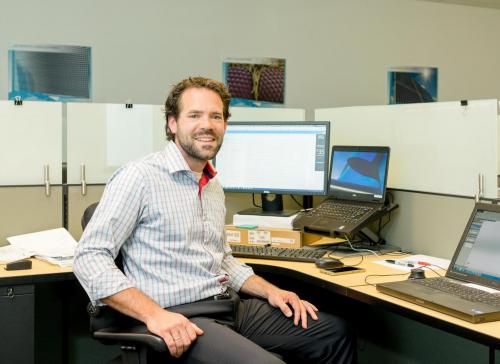 Back