Wim and Willem van der Leegte accompany Royal Couple during a visit to BMW
13 April 2016
Today, Wim and Willem van der Leegte accompanied His Majesty King Willem-Alexander and Her Majesty Queen Máxima during a visit to BMW Group in Munich, which this year celebrates its 100th anniversary.
Working visit to Bavaria
The Royal Couple was there as part of a working visit to the German state of Bavaria (Beieren). Lilianne Ploumen, Minister of Foreign Trade and Development, was also present. The King and Queen visited BMW Welt in Munich, the knowledge and distribution of BMW Group, to learn more about innovations in the automotive industry. Because of the good relationship between VDL Groep and BMW Wim and Willem van der Leegte were also present to accompany the Royal Couple.
Oldest and newest model MINI from The Netherlands
Especially for this occasion the Mini reBorn (the oldest Dutch MINI model) and the latest MINI Convertible in John Cooper Works edition were presented to the Royal Couple. The Mini reBorn dates from 1959. It is one of the oldest Minis in the world and also a Dutch Mini. During the conversion period of VDL Nedcar plant, the old Mini was fully restored by five employees of the automotive plant and restored to its former glory. The latest MINI model, the MINI Convertible, is produced by VDL Nedcar as of November 2015. Unlike the MINI Hatch, which is produced both in Oxford and in Born, the MINI Convertible is a model which is produced exclusively at VDL Nedcar.
Special moment
Wim: "It's special to meet our King and Queen again and that they have invited us to accompany them for this visit. I'm very proud of it." Willem: "Germany is a key market for VDL Groep; about 45% of our revenue comes from this country. It is an honor to be present at this visit and nice to see the Royal Couple has much interest in economic relations and strengthening trade relations."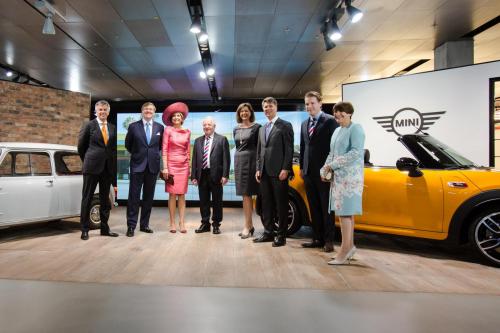 Back