23,000 new stadium seats for PSV
28 June 2017
VDL Seating Systems, part of VDL Kunststoffen of Heeze, is going to replace around 23,000 stadium seats for PSV. Installation of the new folding seats at the Philips Stadium will be performed by VDL Services of Hapert, while brackets and rail systems for the seats are produced by VDL Lasindustrie in Eindhoven. The installation work will take place in phases. The aim is to have all the new seats installed by the end of the winter break during the 2017-2018 football season. Then PSV will once again have uniform, modern stadium seating in the Philips Stadium. This order is valued at over two million euros.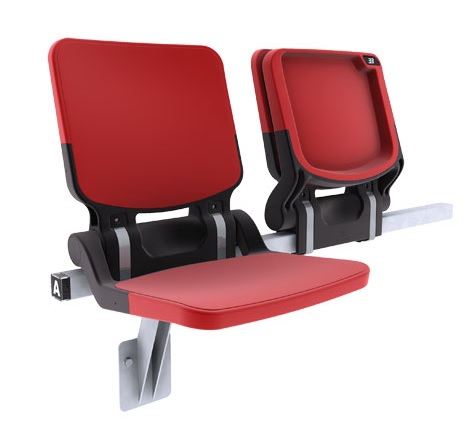 In 2016 VDL installed 3,200 new folding 'rail seats' in the east stand of the Philips Stadium and 600 partly upholstered stadium seats in the south stand. The 23,000 new seats will replace the outdated shell seats in the rest of the stadium. VDL produces stadium seats under contract to The Box Seat. VDL Seating Systems also supports this Eersel-based supplier of stadium seats in the sale of the seating range.
Aisles
An advantage of the new seats in the Philips Stadium is that the seat can be folded, which provides considerably more room to move between the rows of seats. VDL Groep is delighted to facilitate PSV. PSV and VDL Groep enjoy close ties. VDL Group has held a business room in the Philips Stadium since 1995 and has been a PSV sponsor since 1998. From 2018, the Philips Stadium will serve as a fine example in our own backyard that we look forward to proudly showing to other customers.
VDL Seating Systems has been active in the stadium seating market since 2011. The activities began with the delivery of folding and shell seats to FC Twente (5,400) and Vitesse (500) respectively. The largest order dates from 2012: 80,000 stadium seats for the stadium in Basra, Iraq. Other appealing and inspiring projects include: 13,500 seats for football club Heracles Almelo's Polman Stadium in 2015, and 3,200 seats for the Thialf Ice Arena in Heerenveen in 2016. A total of approximately 60,000 stadium seats were sold in the Netherlands and abroad in 2016. The number is expected to reach around 100,000 this year. VDL Seating Systems supplies the stadium seats to 14 professional football organizations in the Netherlands.
Back