Management changes at VDL Nedcar
4 December 2017
Paul van Vuuren (59) has been nominated for appointment as managing director of
VDL Nedcar in Born. After the VDL Nedcar works council has issued a positive recommendation he will succeed Carel Bouckaert (59). At his own request and in good consultation with the VDL Nedcar management team, Carel Bouckaert is going to focus on optimization of the production processes. Under the leadership of Bouckaert the number of employees at VDL Nedcar has grown over the past year by more than 2,000 to approximately 6,500 employees.
Paul van Vuuren—born in Brabant, resident of Limburg—spent many years in various management positions within the financial sector. His area of special focus has been professional services. In that capacity he gained extensive experience with various types of companies and built up an extensive network. As representative of ING Bank's regional organization he has been the regular contact person for VDL Groep for the past ten years.
Growth
Following the successful launch of the MINI Countryman and BMW X1 and the explosive growth in the number of employees during the past year, VDL Nedcar has now entered the next phase of its development. This entails greater focus on the further development of the organization, expansion of the production volume and acquisition of new projects. This repositioning will involve changes in the composition and division of tasks within the management team at VDL Nedcar. Due to the complexity and the developments mentioned above, the management team will be expanded to include Paul van Vuuren, following approval from the works council.
Bridge builder
VDL Groep is convinced that Paul van Vuuren, with his management style and specific skills, will positively bolster the VDL Nedcar management team. "Paul's strength lies in the area of ​​organization and strategy. He is able to find a good balance between the interests of various stakeholders," says President and CEO Willem van der Leegte of VDL Groep. "Paul is the bridge builder and motivator we need to bring VDL Nedcar, and all the colleagues in Born, to the next stage."
Paul van Vuuren says, "With heart and soul, I am looking forward to leading VDL Nedcar to and through the next stage. This appeals to my passion, my drive. It will be my great pleasure to work with all the personnel to create a healthy future. After the growth stage it is important to channel the strength, the dedication, of our employees into achieving normalization. We will be working hard on this in 2018. A tremendous job lies ahead."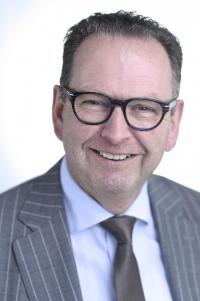 Back