News of
15 September 2023
'Having fun in what you do is the most important thing'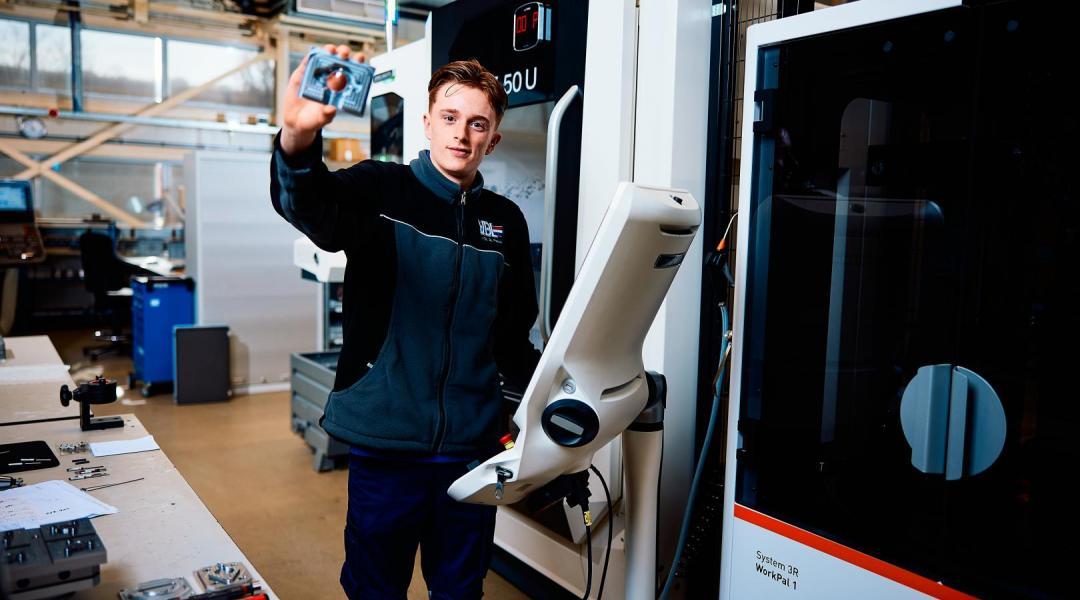 Tijn Rooijakkers, BBL-student
For many havists, it seems like a logical choice: starting a college education after havo. Yet this is not always the best choice. Some high school students find out during their school career that they prefer practical learning, that a higher education demands too much or that they need more time to find out what they want later. For these students, an MBO education can be the solution. This is also the case for Tijn, who started the All-round machining mbo training after finishing high school.
The study career of Tijn (19) looks a little different than that of most students. After getting his VMBO-T diploma, Tijn made the choice to move on to havo. "I made this choice because I didn't know what I wanted to do after VMBO. I wanted to give myself some more time to make a choice." After two years, Tijn also earned his havo diploma, although it didn't come naturally. "At havo I didn't have it easy. I had to do a lot for it, but in the end I succeeded. I am very proud of this!"
Orienting the future
Although Tijn started havo to give himself some more time, after graduation he still didn't know what he wanted next. Walking around a college didn't seem like anything to him, but what then? "At that time, the idea of an MBO education had actually not yet occurred to me. In my mind, an MBO education was a stupid choice after attending havo." So Tijn decided to take a gap year to find out what he really wanted. With success. "I'm very glad I did that, otherwise I probably would have done something completely different."
A BBL training: working and learning at the same time
During a visit to the Education Fair Zuid he came into contact with the industrial family business VDL Groep. VDL employees told him about the All-round Machining course, which appealed to Tijn. After some research, he decided that this was the right training for him. "I chose the All-round Machining course because I really like what you can make from a piece of raw material. The possibilities are endless. There is an awful lot involved until you get to the final product. In addition, you have to use your brain as well as your hands."
The mbo education All-round machinist is a BBL education, which means that Tijn works four days a week at a recognized training company and goes to school one day a week. Tijn spends his working days at VDL GL Precision in Eindhoven. "At the Education Fair I was told to contact VDL GL Precision if I thought machining was something for me. That's what I did. After some conversations the choice was made for me. I really enjoy working at VDL."
The VDL Triple T Academy
In addition to his regular MBO education, Tijn participates in the VDL Triple T Academy: VDL's talent program for technical BBL apprentices. At the VDL Triple T Academy every Friday morning he receives training focused on personal development, sports and vitality. These training sessions are supervised by professionals and take place at cool locations such as FC Eindhoven and PSV, which is a gift for Tijn as a sports fan and true PSV fan.
The right choice
His mbo education, work as a machinist at VDL GL Precision and participation in the VDL Triple T Academy make Tijn feel that he has made the right choice. He wants to advise others who are unsure about their choice of study to think carefully about what suits them best. "I would mainly say: do what makes you feel good. You are certainly not inferior if you choose an MBO education, even if you have done havo. Having fun in what you do is the most important thing, otherwise you will never last long."