News of
15 September 2023
'The VDL Triple T Academy is full of fun activities'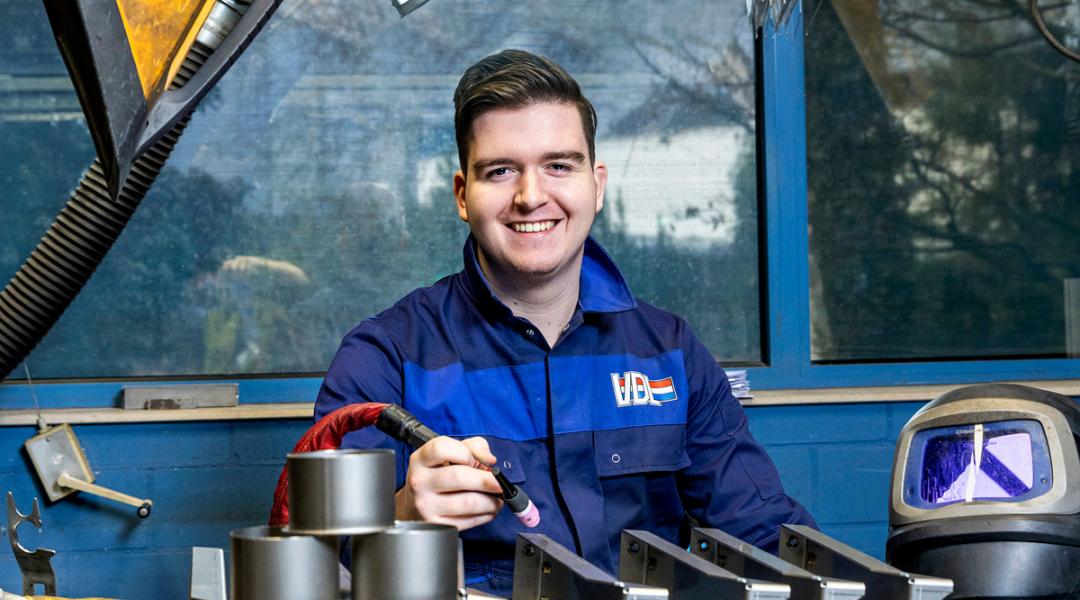 Sam Kersten - VDL Triple T Academy
A unique, free training program in which - under the guidance of professionals - you will work on your personal development during training sessions at top locations such as FC Eindhoven and the Philips Stadium. That sounds too good to be true, right? Not for the students of the VDL Triple T Academy.
Sam Kersten (21) and Jayden Poeder (17) are both following a technical BBL course at Summa College in Eindhoven, where Sam is being trained as an All-round welder (level 3) and Jayden as a Basic welder (level 2). When they don't have classes at Summa College, both men can be found on the shop floor of VDL NSA Metaal in Veldhoven. Of the four days they work here, every Friday morning they work on their personal development at the VDL Triple T Academy.
The VDL Triple T Academy - Pride, Talent, Technology
To supplement their regular apprenticeship program, Sam and Jayden are following the program of the VDL Triple T Academy: the VDL Groep's talent program - developed in collaboration with FC Eindhoven, Mikrocentrum and PSV - for students following a technical BBL training program. Here they follow weekly training sessions focused on personal development, sports and vitality. Sam and Jayden work on the development of their 'powerskills', but also on their vitality and lifestyle. In this they are coached by sports psychologist René Berden and former professional footballer Jens van Son. According to Sam and Jayden, the VDL Triple T Academy is a super valuable addition to their regular BBL training. "The VDL Triple T Academy is full of fun activities. In addition, it is incredibly educational and you get to know new people," says Jayden. Sam: "Personally, I would definitely recommend boys and girls to join. It's a fun experience, you learn a lot and it's a boost to your fitness!"
Padel, climbing, soccer: no shortage of sporting challenges
Although the program of the VDL Triple T Academy was developed in collaboration with FC Eindhoven and PSV, the physical training certainly does not consist solely of playing soccer. Sam: "We have already done a lot of fun things. For example, we have been swimming, climbing, playing soccer, taking a battle box training and much more." Still, playing soccer strikes a chord with the students. In fact, Jayden's favorite activity at the VDL Triple T Academy was playing a soccer match in the Jan Louwers stadium, home of FC Eindhoven. After this match, Sam and Jayden were also allowed to take penalties at halftime of FC Eindhoven - Heracles under the watchful eye of a full stadium.
Development of 'powerskills'
In addition to the physical training that Sam and Jayden attend, they also work on developing their "powerskills. For example, the topics of cooperation, communication, entrepreneurship and result orientation are covered. Sam says: "We get to know ourselves better here: how to handle stress better, how to set goals and overcome fears. That's nice because we can apply that in everyday life, for example in communicating and cooperating with colleagues." These "powerskills," as they call them at the VDL Triple T Academy, are indispensable in the high-tech manufacturing industry because they ensure vital and agile employees.
Strength through cooperation: the basis of VDL Groep
The strength of the VDL Triple T Academy is enhanced by the group feeling that exists between both the students and the trainers. They see each other every week and work together to achieve their goals. The mutual cooperation is therefore incredibly good, Sam and Jayden note. "The atmosphere in the group is very pleasant and the bond between the trainers and me is good," Jayden says. Sam also agrees: "The trainers are sociable and you can talk to them about anything." He adds, "Besides, it's nice to meet colleagues from other VDL companies for a change and learn what they actually produce and do at work." To conclude their training at the VDL Triple T Academy, the students set a nice common goal: an obstacle run of no less than 12 kilometers! A great goal to work towards together.