Technology promotion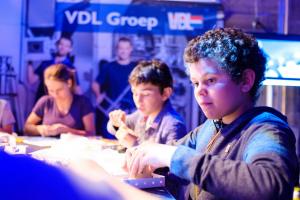 Technology is both fun and challenging. Technical innovations have become an integral part of our daily life. VDL Groep recognises the importance of making people aware of the essential nature of industry and technology within society. To make this possible, VDL Groep supports a number of technology-related activities and events each year. Our focus is on robotisation and automation, the electrification of vehicles, automated guided vehicles, craftsmanship and entrepreneurship. We also try to encourage enthusiasm for technology amongst young people, as early as possible. We have established a number of joint ventures aimed at introducing young people of all ages to the technical sector, and encouraging them to become involved.
Sport
VDL Groep attaches considerable value to the health and welfare of all people. Sport is of course a fun and positive way of remaining healthy. We believe that our society can be more vital and can benefit from sporting activity. Sport also encourages cooperation, brotherhood and a sense of community. VDL Groep supports a number of sports associations and projects. Our main areas of focus are football, running, hockey, cycling and equestrian sport.
Society
In the field of sponsoring, VDL Groep also aims to make a positive contribution to society as a whole. We support and encourage a range of social projects.
Culture
Culture is an integral part of our society and helps determine the nature of that society. To retain this cultural identity, it is essential that organisations and projects active in that field be supported. VDL Groep is open to cooperation aimed at retaining our culture and supports a variety of events and organisations including museums and music associations.
Sponsor criteria
To be eligible for sponsoring by VDL Groep, the sponsoring application must meet the following criteria:
The sponsoring application relates to at least one of the four areas on which VDL Groep focuses its sponsoring activities: promoting technology, sport, society and culture.
The sponsoring must make a contribution to the VDL Groep's sponsoring goals
VDL Groep provides no support to:
Projects or activities serving exclusively an individual interest;
High-risk sports;
Projects or activities that are socially and/or ethically irresponsible;
Organisations or activities that serve political or purely religious objectives;
Organisations that are fully government subsidised.
Submitting an application
Sponsoring applications must be submitted in writing via sponsoring@vdl.nl. We will only consider applications submitted in writing.
The sponsoring committee meets once a month to discuss any applications received. If you have any questions about sponsoring by VDL Groep, please contact us at +31 (0)40 292 50 00.
VDL Foundation
The goal of the VDL Foundation, established by VDL Groep in Eindhoven on 31 October 2014, is to provide support to social projects in the field of healthcare and welfare.
In addition to physical and mental health, the foundation also focuses on the living environment, education, social contact and recreation. By deploying financial resources for initiatives such as research and providing other resources indirectly, we aim to make a positive contribution to the welfare of the groups we seek to assist.
For more information, visit www.vdlfoundation.com.