News of
15 September 2023
'My welcome at VDL NSA Metaal was really awesome'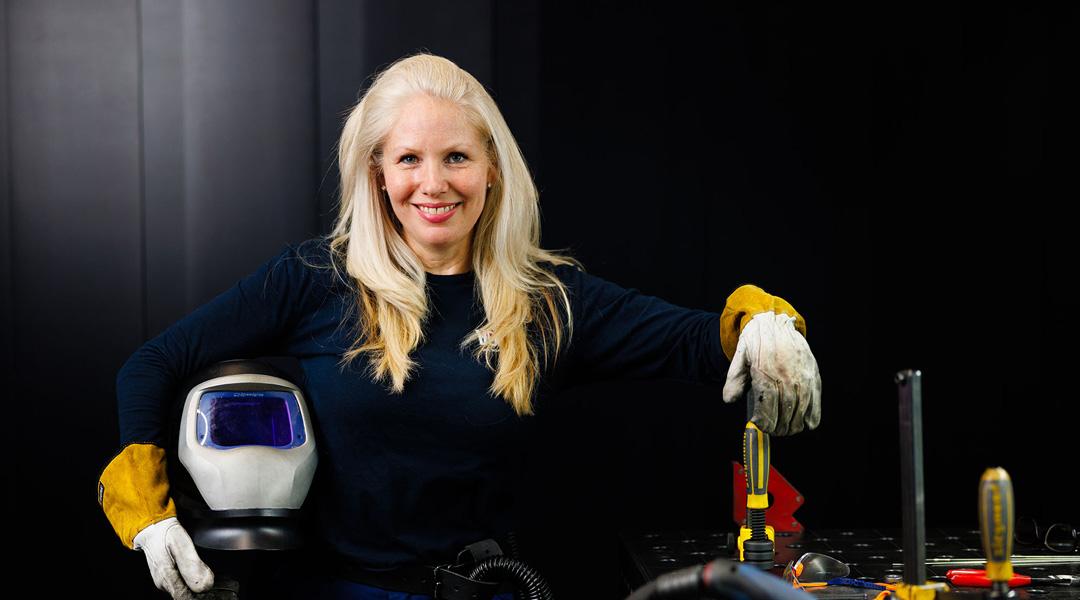 Claudia Bulsing, VDL NSA Metaal
'Good afternoon! Cheerfully, Claudia Bulsing of VDL NSA Metaal approaches. She looks tiptop groomed and, with her long blond hair, is not necessarily the stereotypical welder you normally think of.
Together we walk in the direction of her workplace. On the way we stop for a chat with some colleagues who enthusiastically tell us what they are currently working on. Claudia is also proud to tell about VDL NSA Metaal, where she has been working for several months now.
"They work with the latest machines and systems here and think it's important to stay ahead. For example, we have a laser welding machine here, which is pretty special because not many companies have those."
Do you weld with that yourself?
"No, I don't have enough experience for that yet. I started welding in 2019. First I got my diploma for MIG/MAG welding and later for TIG welding. That's also where my preference lies now. It's a little more refined and precise, but that's exactly what I enjoy doing the most."
So you haven't been working as a welder for very long?
"True. Before that, I worked as a receptionist at VDL Welding Industry. I started there in 2019 and that's when I first came into contact with the welding profession. Although I really enjoyed doing office work, I also became curious about welding. A colleague then said "try it sometime!". At first it seemed very scary, but in the end I liked it so much that I wanted to try it again. At that time a welding course started and I just asked if I could join. And I was allowed to! I am very grateful to VDL Lasindustrie for that.
It really felt like a hobby and out of enthusiasm I went on for welding diploma MIG/MAG 1. Since welding is a matter of practice, I went to work in the evenings myself at VDL Lasindustrie. For me, that was mostly "hobbying. My first hobby project was a squat rack for at home. A colleague helped me with this and taught me a lot about metalworking. After all, I had never held a drill in my hands, or heard of a sanding belt. So no technical background. But the more I learned, the more enthusiastic I became. The crazy thing was that at that point I still had no intention of actually working as a welder."
So how did you end up as a welder at VDL NSA Metaal anyway?
"After the first two welding courses were over (by now I had also done TIG1) I noticed that I really wanted to continue welding. Then I decided to look at my options. I wanted to work part-time as a receptionist and part-time as a welder. When it turned out that I could not work part-time as a welder at VDL Lasindustrie, I started looking at whether I could work two days somewhere else within VDL. I knew VDL NSA Metaal and that seemed like a great company to work for. I saw that there was a vacancy for a welder and despite the fact that I did not have much experience I contacted them. I was invited for an interview and had to do a test weld. Unfortunately it was not good enough and I could not start, but they did say that they would like to see me again when I would get my TIG 2 RVS diploma. I latched onto that and went welding as often as I could in my spare time to get more experience and get my TIG 2. Finally, a few months later, I contacted them if I could do another test weld. And that one went well! Then I was allowed to start. Unfortunately I couldn't combine the days with my work as a receptionist at VDL Welding Industry and I had to make a choice. It was very exciting, but in the end I decided to go for welding. I haven't regretted this for a moment!"
What do you love about welding?
"I've been working here for three months and I'm still so happy with this choice every day. We work here for different customers and make many different products. That makes the work varied. I particularly enjoy working with the thin sheet metal. If it is very refined and precise. I also like being able to shut myself off from everything and everyone and focus completely on my work. You have to be able and willing to work independently as a welder. I also notice myself getting better and better and I get a lot of satisfaction from that."
How do you like it at VDL NSA Metaal?
"First of all, my welcome at VDL NSA Metaal was really incredibly nice. I was given all the space and freedom to develop myself right from the start. And I have incredibly nice, pleasant colleagues, and also important, I have a very nice workplace. At VDL NSA Metaal, delivering quality is also very important. You can see that in the neat welding shop and the high-quality work tools. My supervisor says that 'without quality tools you can't deliver quality either'. That's important to me too, so that's nice work. They also have welding robots and use hand laser welding."
Any tips for others who may be thinking about a career switch?
"Just do it, try it out once. Then you'll know soon enough if it's for you. So definitely come see me if you want to give welding a try!"